Recently, I've been talking a lot to clients about how to attract and retain good staff. The employment landscape has changed since 2020 and workers have new priorities - job security, flexibility and well-being are now top of mind. In addition, the rising cost of living is putting pressure on remuneration. Many small and medium-sized businesses are struggling with their staff being head-hunted, a shortage of candidates in the market, and having to pay significantly more to recruit new people.
Did you know that people working in an organisation without a well-being culture are more likely to leave?
Offered well-being 28% likely to look for a job in the next year
Not offered well-being 55% likely to look for a job in the next year
(Skills Consulting Group - Workplace Wellbeing Index 2022)
It's more important than ever for businesses to implement HR strategies that support the achievement of business goals. One-off interventions like giving key people a large pay rise might mean that you keep them 6 months longer than you would have otherwise, but in my experience, a clear and comprehensive HR strategy is the best way to create a business culture that attracts and retains talented people and creates high performance. In the absence of a cohesive strategy, HR in a small business often becomes compliance-driven, with an ongoing focus on reactive trouble-shooting when problems arise. An effective HR strategy will move a business beyond compliance to proactively building a competitive advantage through people.
There are three key steps to developing and implementing an HR strategy, including assessing the strengths and weaknesses of your current HR function, developing a strategy to achieve your long-term goals and ensuring that your plan happens. Let's look at these steps in more detail.
Assessing the current state of HR
Assessing the current state of HR in your business requires a thorough understanding of best practice HR and expertise in what works and what doesn't in terms of people management. It's also essential to understand how all components of the HR function work cohesively together to produce outcomes. For example, if you have an excellent recruitment process that brings top talent into your business, but the employee experience is not positive, your staff turnover rates may be higher than your competitors. Equally, a great employee experience won't guarantee low turnover if you consistently hire the wrong people.
Did you know that the cost of employee turnover has been estimated as high as 150% of compensation?
(Culture Amp - Measuring HR ROI)
An HR assessment includes gathering data on the business' HR systems, getting to know the leaders and their aspirations and business goals and understanding the employee experience. Current HR practices are assessed against best practice to identify what's going well and any areas for improvement. This data provides the starting point for developing an HR strategy, which should integrate all of the components in Diagram 1 below: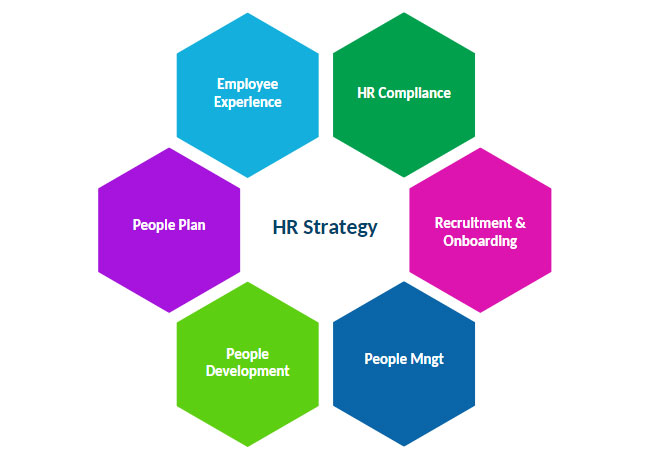 Building an HR strategy
What is the purpose of an HR strategy? "The fundamental aim of strategic HRM (Human Resource Management) is to generate strategic capability by ensuring that the organization has the skilled, engaged and well-motivated employees it needs to achieve sustained competitive advantage." (Armstrong, 2008). To do this you need a leadership mindset that considers HR as a key part of business strategy.
Your HR strategy is a roadmap to take your business from its current state of HR to an HR function that drives a competitive advantage, detailing and your objectives, how they will be achieved and timeframes. For example, one of your goals might be to achieve a competitive advantage by creating a high-performance working environment in your business. This strategy is based on the commercial benefits of developing high-performing employees who will go the extra mile for your business and your customers.
Did you know that there's a significant difference in the vlaue added discretionary performance between "superior" and "standard" performers? The table below summerises the gap for jobs with differing levels of complexity:
Job Complexity Low Medium High
Performance Difference 19% 32% 48%
(Watkin, 2002)
To create your strategic HR roadmap, you need to consider:
How does your HR compare to best-practice for high-performance organisations?
What do you need to change to achieve your goals?
Who do you need to involve?
Do you need specialist support to make the changes?
What is the timeframe?
Did you know that there are three common characteristics of high-performance organisations?
1. An open, people-centred, creative culture.
2. Investment in people through education, training, loyalty, inclusiveness and flexibility.
3. Measurable performance outcomes.
(Armstrong, 2008)
Now that you've created your roadmap for a competitive advantage through people, how can you make sure that your plans are actioned?
Implementation
Once you've devised your HR strategic plan, it's critical to put in place the right resources to make sure that your plan happens. Making yourself accountable to someone (your board, a business coach, etc.) is a good way of keeping your HR strategy near the top of your to do list. Outsource activities that require specialist skills or that you don't have time for. For example, you may identify a need to upskill your managers and engage a leadership development expert to deliver training/coaching.
Did you know that:
(a) employees who report to managers who are good coaches are 40% more engaged?
(b) 37% of leaders report being uncomfortable with giving direct feedback about their employees' performance?
(Culture Amp - Humanity at Work)
As part of your HR strategy implementation, think about metrics that you can implement to determine the impact on the business. For example, if you're implementing initiatives to improve employee engagement, an appropriate metric could be absenteeism.
Summary
Implementing a clear and cohesive HR strategy based on best-practice is the best way for a business to gain a sustainable competitive advantage through people. If you find that you're regularly reacting to staff crises in your business, it may be time to develop your roadmap to creating a great company culture that prevents problems and results in happy and high performing employees. Please contact me if you'd like to find out more. I love talking about best practice HR and helping clients to create and implement winning HR strategies